A visit to Walden Pond will bring you back in time to the mid-1800s. Experience the connection with nature that inspired Henry David Thoreau's Walden. The Massachusetts Department of Conservation and Recreation owns and manages the 406+ acres of protected land. More than 500,000 visitors enjoy the area each year.
Enjoy a day of swimming, walking around the famous pond or boating out on the water. Be sure to visit the replica of Thoreau's single-room cabin. Bring the cross country skies during winter months.
Boating
The boat ramp closes for the season in early December then reopens in spring. Specific dates will be dependent on the weather. Check the website for the most up to date calendar.
Volunteer Opportunities
The Walden Woods Project welcomes volunteers who work on the farm, building and maintaining trails, completing administrative projects for the organization, and supporting efforts to run public events and programs.
Parking
Parking is located in the large lot off Rt. 126 for a fee. Non-Massachusetts residents (status determined by license plate) will pay a higher fee. Call the parking staff (978.369.3254) in advance to ensure space in the lot is available.
Other Resources
Visit The Walden Woods Project to learn more about the preservation of Walden Pond and the land, literacy, and legacy of Henry David Thoreau.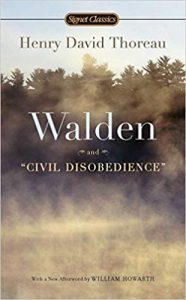 ---
---
---
This listing is provided for informational purposes only and is current as of the date originally published or updated. Motherly Life does not represent or warrant information provided herein. Please contact the provider directly to confirm current services and rates.
---