Boston Children's Museum, founded in 1913 by the Science Teachers' Bureau, a group of educators dedicated to providing new resources for both teachers and students, as a center for the advancement of the teaching of science. The Boston Children's Museum is one of the largest children's museums in the world. It engages children in experiences and activities that develop foundational skills and spark a desire to learn. The Museum offers hands-on exhibits and programs focused on science, culture, health & fitness and the arts that spark the creativity, curiosity, and imagination of children and families.
Hours
The Museum is open every day from 10:00am – 5:00pm (Fridays until 9pm). It is closed on Thanksgiving, Christmas and closes early on both Christmas Eve and New Year's Eve. The Museum opens at 12:00pm on January 1st.
Admission
Current admission prices are $16 per person. Children under 12 months are free. Check the Museum's Ways to Save page for the occasional special entrance fee offers (sponsored offers, coupons, teacher and military family savings, etc.) and current admission prices.
Parking
Parking is available at Stillings Street garage for $14 on weekends and $23 on weekdays (remember to get your parking stub validated at the Museum Information Desk). See the Museum's website for information on other parking options.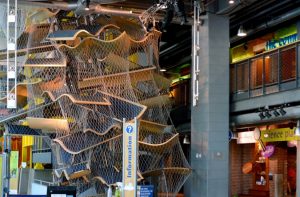 Events
You can search the Museum's calendar for upcoming activities and programs.
Location
Located at 308 Congress Street, Boston, MA.